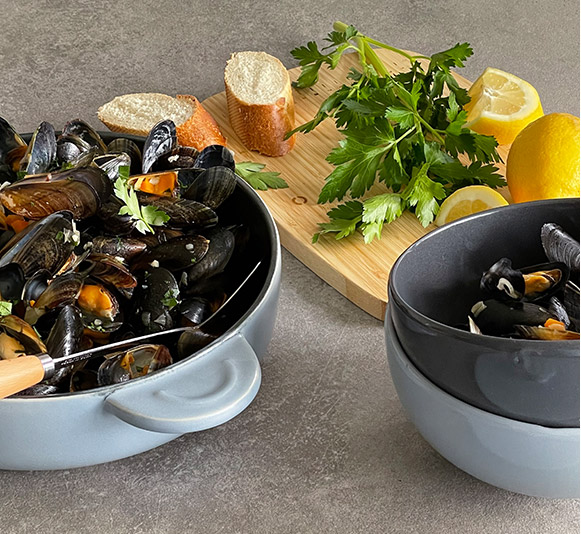 Raw materials
100% natural
Material and sustainable craftsmanship
Our ceramics are handcrafted in Italy and only with high-quality raw materials of natural origin. It is subjected to a rigorous and controlled production process to ensure its stability and durability, thus achieving a product for life
Does not migrate harmful, toxic chemicals or heavy metals
What better way to avoid toxins than doing without them? Our ceramic is free of artificial chemicals, lead, cadmium, nickel, polymers, PFOA and PTFE. In addition, to prevent any possible migration to our food, our stoneware ceramic is fired at 1,200ºC, achieving extra structure and rigidity.
With this type of ceramic, the heat is distributed evenly, allowing the nutritional properties to remain unchanged for a healthier and more flavorful meal.
You will notice it in the taste
Unlike other materials, ceramic has low porosity, is odorless and does not react with your food, so you can safely cook whatever you want and how you want! Even tomato sauces, lemon or other acidic foods without worrying about contaminating your food or altering its flavor
For optimal results, always heat your saucepan over medium-low heat and once you have reached the ideal temperature, you can lower the heat to low. Ceramic will retain heat for much longer, allowing you to lower and save on energy consumption while cooking.
Say goodbye to plastics and silicones!
Kuoko ceramic glaze is fired at very high temperatures to give it a superior consistency and rigidity, so you can cook more safely without using plastics or silicones. Any utensil will serve you when cooking without worrying about damaging the pan. We always recommend stainless steel or bamboo
When it comes to cleaning, you won't have any problems either! Food cleans up much more easily than a pot or pan made of conventional uncoated materials, but for stubborn leftovers, leave your pan in warm water for a while and (if necessary) bring the water to a boil, and add a little baking soda to your sponge before you scrub.
Keep in mind that ceramics can sometimes get stained. This does not mean that your product is damaged or has lost quality. It is totally normal and harmless and allows you to continue to enjoy a full and toxic-free cooking and eating experience! They are consequences of using a 100% natural material and being handcrafted.
1 single utensil for everything you need. ALL IN ONE!
You can start cooking on the stove, ceramic hob or induction. Continue directly, without the need to change the container, with a touch of oven, and serve at the table to enjoy it. Once ready, directly to the dishwasher. If necessary, the same container can be used to store food in the fridge or freezer.
Cooking has never been so comfortable and without the need to dirty other containers unnecessarily.